31/01/2022 - Blog
MONOCHROME: THE ART OF SINGLE COLOR TABLE SETTINGS
When the mise en place becomes pictorial and plays with variations of a single color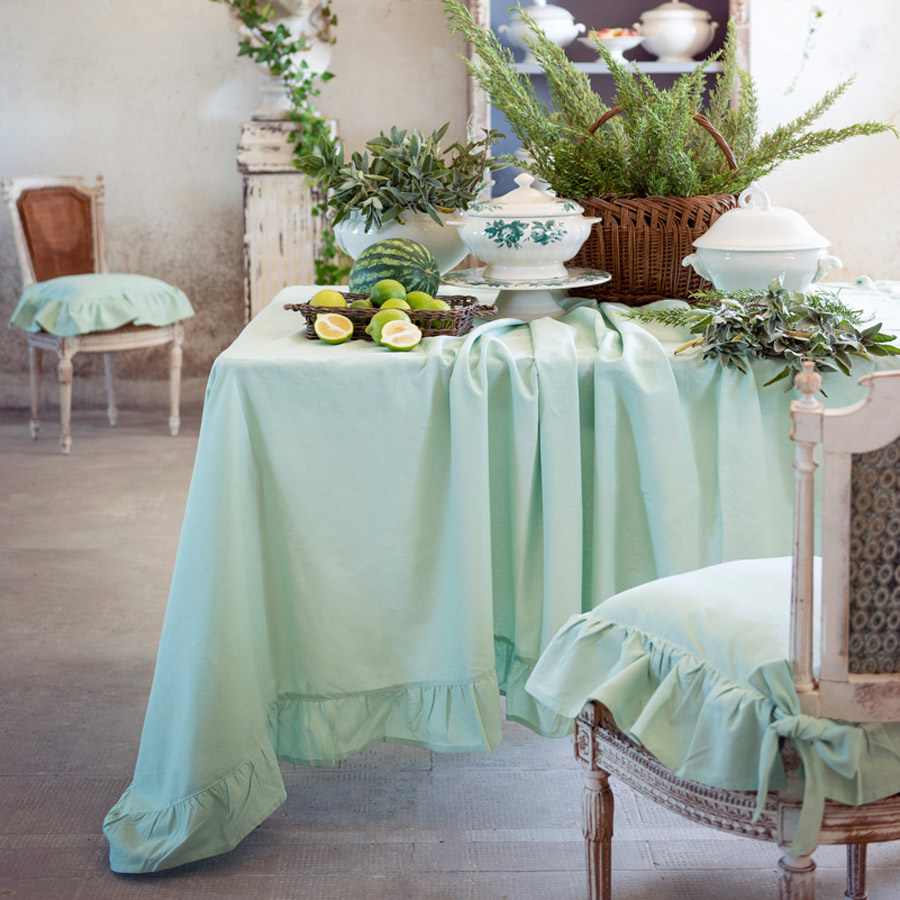 Dressing your table with single color fabrics is a little like having a canvas at your disposal on which to paint. The tableware and the decorations become akin to paints and paintbrushes, toying with various nuances of tone-on-tone coloring. The result goes beyond a mere mise en place: it is an almost pictorial creation, where color becomes the true protagonist.
White, sand, grey or burgundy? Dusty pink, seawater green, or yellow? The choice depends not only on the plates or glassware that you have to choose from, but also on the sensations that you wish to evoke. Based on the psychology of the color, each tonality has a saturation, a luminosity, a temperature all of its own, and can stimulate different perceptions in the eyes of the beholder.
To paint the ideal scenario of your dearest moments around the table, let's discover the art of a single color mise en place, starting from two tablecloths from the Blanc MariClo' 2022 spring/summer collection: the Frill line, in a linen blend and the Infinity Summertime line in pure cotton. Happy reading and happy decorating!
Single color table setting
1. White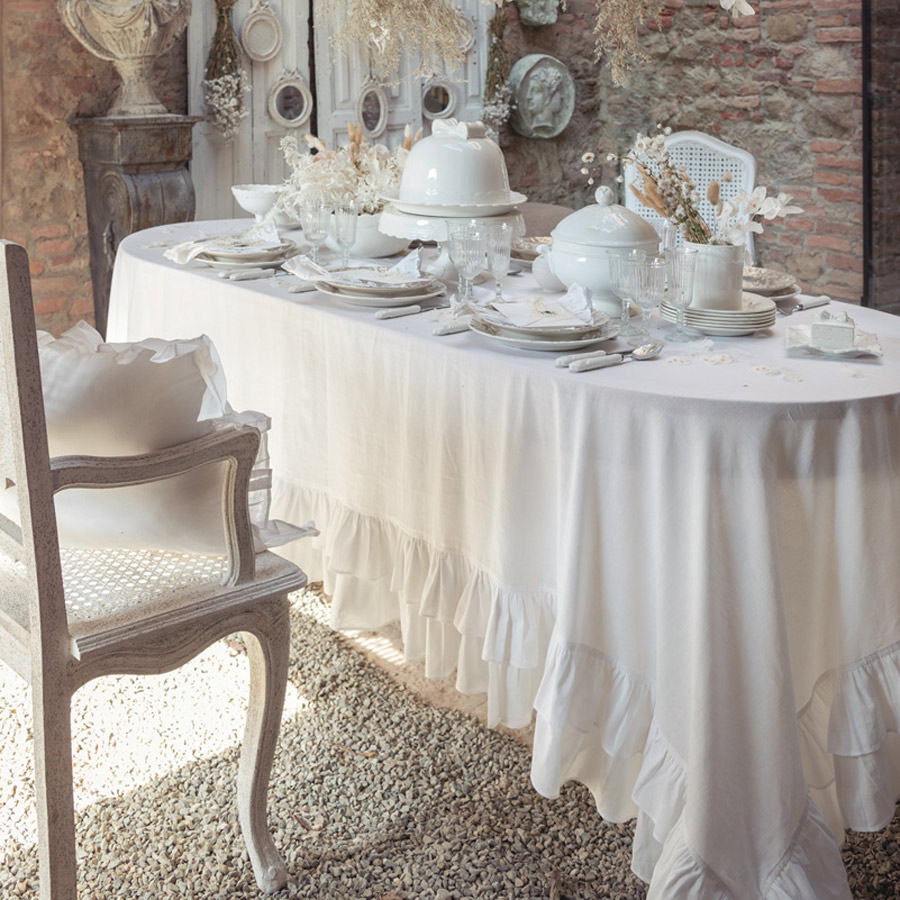 Symbol of purity, tidiness and luminosity, white is only in appearance a pure and unique color. Like any other color, in fact, it has an infinity of nuances: from the colder and more aseptic tones of optic white, to the warmer, more embracing hues of milk white. In the Blanc MariClo' collections, total white uses the more iconic nuances of the shabby style, and is therefore a must-have.
But in terms of table decor, when and why choose white? Any time that you wish to transmit a sense of elegance, but at the same time of sobriety. This may be on occasion of an important dinner event, of a communion or of a wedding. In any case, a white tablecloth will become a true canvas, to be completed with the candor of ceramic tableware, the transparencies of the glassware or vases, the delicate shapes of the flowers.
The result? A candid and harmonious mise en place, like the one we propose you create using a tablecloth from the Frill line in white.
Sand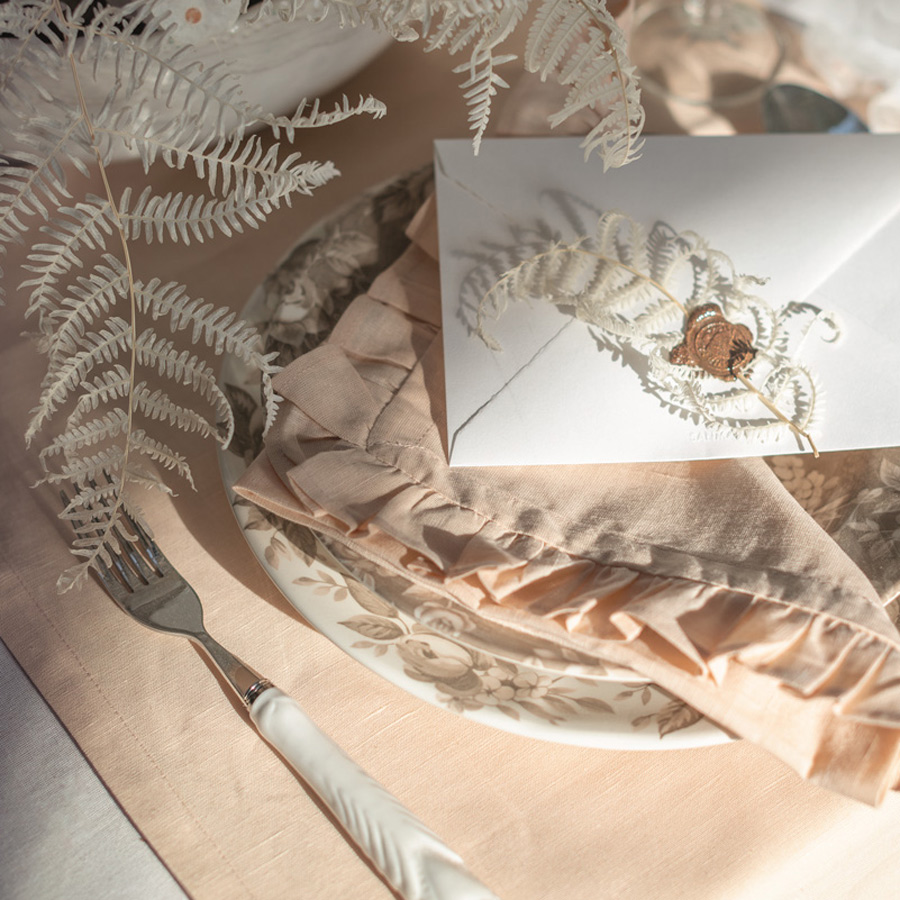 Warm and versatile, sand is a part of the natural tones that are so loved by interior decorators. It is a reassuring color: it calls to mind the tones of fibers such as flax linen, hemp and jute on the one hand, and of materials such as wood, straw and earth on the other. It is precisely these characteristics that make this color so easy to pair and match with many tone-on-tone hues that can give great depth to a sand-colored tableau. And this is true for both home decor and in table decor.
For example, imagine setting plates with a beige flowered border on your sand-colored tablecloth, and completing the mise en place with centerpieces made from dried flowers. The result is exquisite. Should you wish to emphasize the country chic aspect of this color, you could use rattan underplates and wicker baskets: your table setting would become elegant but informal, inviting guests to immediately take their seats at the table.
Grey
After a natural color, let's move on to a neutral color: grey, synonymous with discretion and elegance. Deriving from the fusion between white and black, it is one part light and one part shadow. When the first prevails, the grey takes on the lighter hues of pearl grey or smoke grey. When the latter prevails, it acquires the darker hues of anthracite or slate.
In home decor, this color is often associated to a concept of modernity, while for table settings it is not very common. We propose it here, to create charming table settings that may be enriched by the most brilliant of all variations of the color grey: silver. By selecting plates with a silver border, steel flatware with engraved grips and embossed brass vases that are reminiscent of vintage silverware, you will create an aristocratic and out-of-the-ordinary mise en place.
Burgundy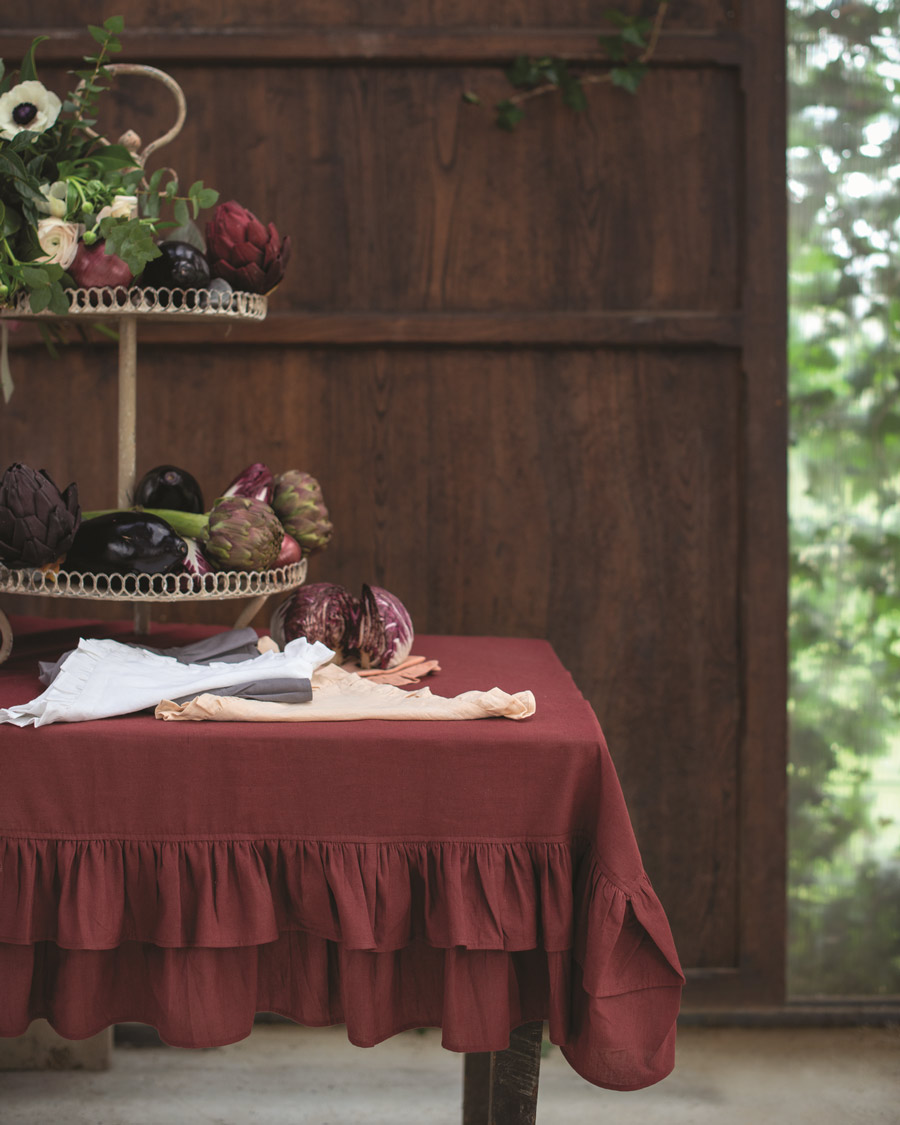 This color was once reserved only for the nobility, senior prelates and hosts. Nowadays, it is a versatile color that has nonetheless maintained a fascinating sense of regality, luxury and seduction. Burgundy is a grade of red that is created from blending brown with violet, and that derives its name from the French city of Bordeaux, famous for its wine.
The use of burgundy in the art of table decor is associated with a mise en place for festivities but, as it is in style in interior decorating, it can be used to create elegant and sophisticated table settings well beyond the holiday period. A tablecloth from the Frill bordeaux line, enriched, for example, with a double flounce, will bestow character on any table setting. And should you really wish to impress your guests, go for a botanical touch, using the nuances that give origin to the color: brown and violet should accompany your choice of vegetables to use to create a striking centerpiece or placeholders that are "outside the box".
Dusty pink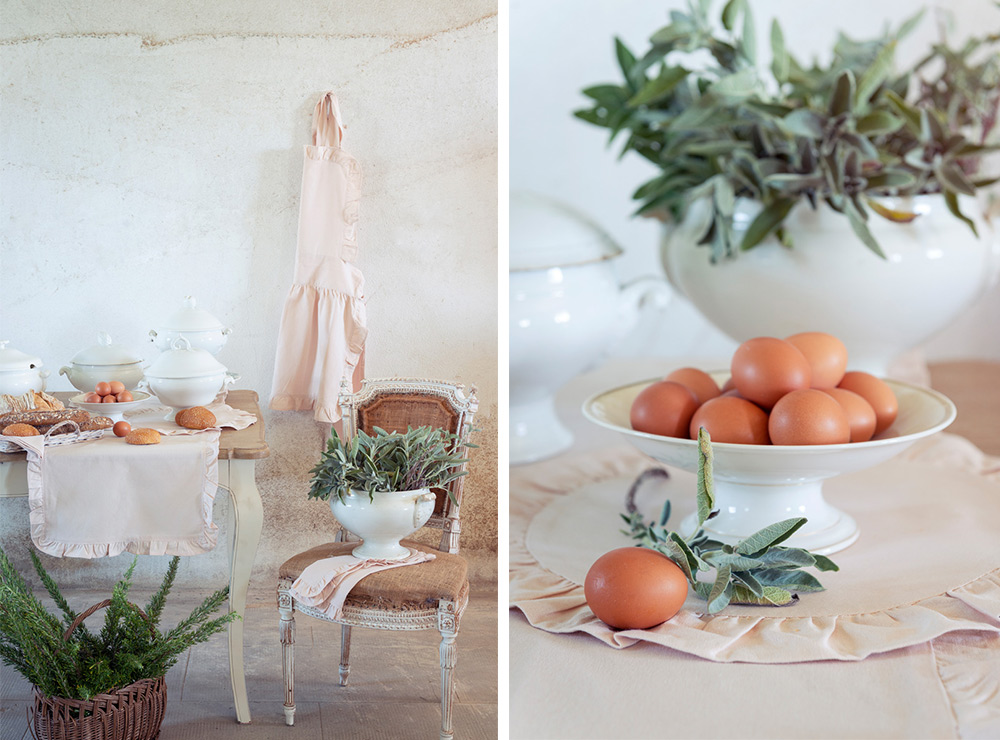 Pink is a romantic and feminine hue, the symbol of positivity and optimism. It is created using red, from which it inherits a vibrant note, subdued by the purity of white. Its palette is emotional and refined: it includes delicate tones such as dusty pink or antique rose, that communicate a sense of sweetness and welcoming, and stronger tones such as coral pink or fuchsia, imbued with a sense of energy and confidence.
Among the softer shades of pink, we have chosen dusty pink to give the mise en place a sense of harmony and lightness as impalpable as the scented powder used in cosmetics. If you choose tablecloths, runners, placemats and napkins in this shade of pink, you can create place settings playing on the many variations of the color pink. The right choice for a springtime table, for a romantic one-on-one, for a baby shower or a sweet birthday.
Seawater green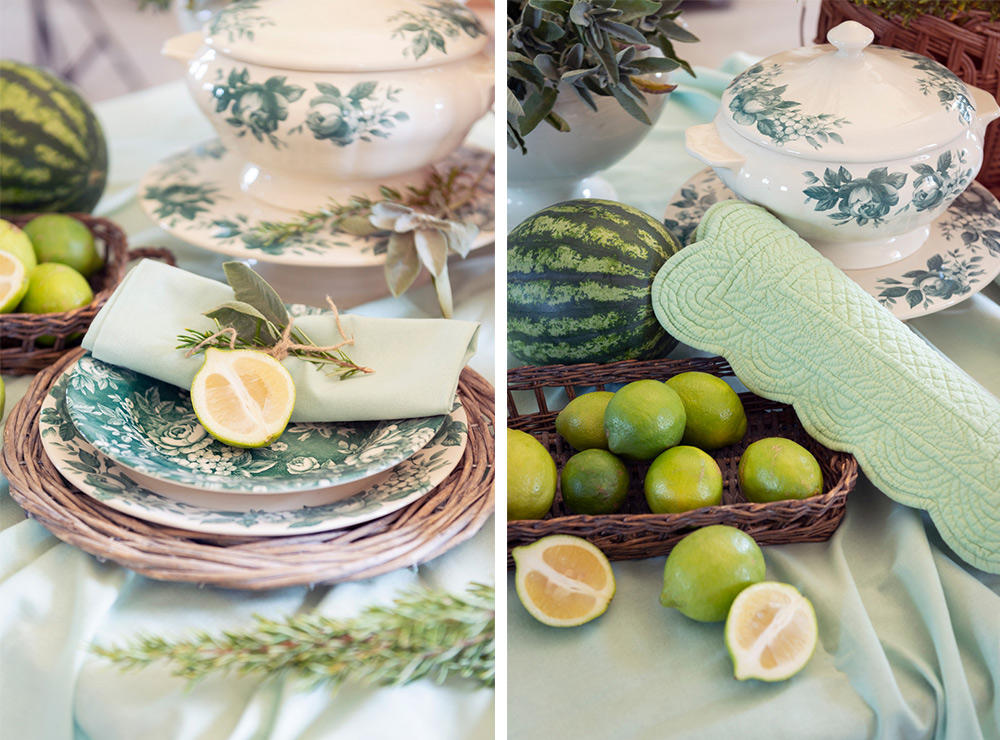 Now for a change of color, while remaining within the range of pastels, with a seawater green: a fresh and suave hue, capable of instilling a sense of calm and tranquility in the beholder. As the result of mixing blue, green and white, aquamarine is one of the colors considered most in style for the spring and summer of 2022. Let's see how to use it to create a country chic flavored mise en place.
After having chosen a seawater green tablecloth, runners or placemats, create your place settings using wicker underplates paired with Blanc MariClo' Splendor green plates. The desaturated emerald green of these ceramic plates, featuring floral borders and patterns, will give your table an irresistible antique flavor, which may be topped off with compositions made from aromatic herbs in baskets or bowls that match the plates.
Yellow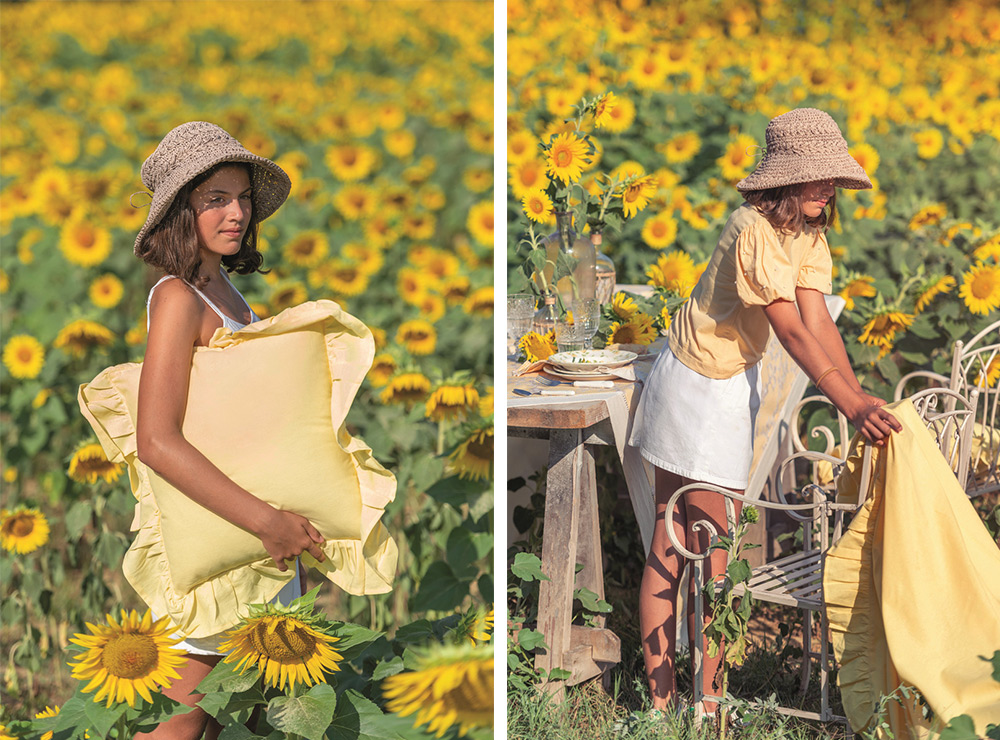 We now complete our immersion in the art of single color table decor with yellow, the color of the sun. The symbol of light and energy, this color can spread good humor in any room of your house. In the kitchen especially, yellow is great for creating country chic style settings, in that it can exalt the hues of natural or bleached wooden furniture. The effect on a table?
A flamboyant cheerfulness, the perfect choice for Easter, a party with friends, open-air lunches or dinners. Not surprisingly, we have decided to introduce the yellow variation of the Infinity Summertime textile line in a field of sunflowers: the ideal context for a summer mise en place with flowered plates that recreate the fresh and lighthearted essence of fields of wildflowers.
Accompanied by this warm and sunny vision, we hope our suggestions on how to use colors have brought you inspiration for your cherished tables. We look forward to having you back for our next blog post, by Blanc MariClo' to discover new trends in interior decoration for the spring and summer of 2022. Thank you for having joined us!