13/12/2021 - Blog
GUIDE TO CHRISTMAS GIFTS 2021
Many ideas, care of Blanc MariClo', to make him, her, the little ones, and our furry friends, happy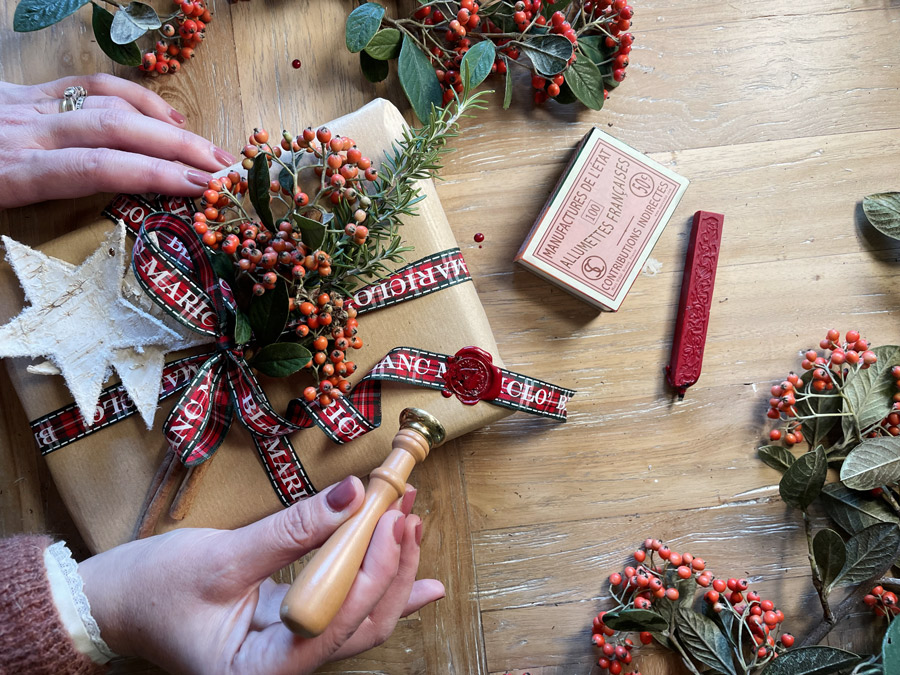 ❝A small thought, a gift idea to be held tight in your hands:
our love enclosed
in a package and decorated with a sprig of holly.❞
Christmas is coming closer and packages are collecting under the branches of the Christmas tree. Nonetheless, that list of gifts is still long: how to accomplish the task of pleasing all your loved ones' desires? To accompany you in your search for the perfect gifts for your loved ones, we are back again with our traditional gift guides: collections of useful, and never commonplace, gift ideas. Suggestions to cuddle family and friends. Ideas for her, for him, for the little ones and even for your furry friends.
The aim is to make the eyes of whoever receives your gift, shine with joy. So, focus on the tastes of your loved ones, remember their passions and try to understand their needs. Then choose whatever you like best from the gift ideas we have selected for you in our autumn-winter catalogues: you may make your purchases in the Blanc MariClo' stores on the territory or in the authorized online shops.
Here is our detailed 2021 Christmas gift guide: browse through it and find your inspiration for a Blanc style gift!!
2021 Blanc MariClo' Christmas gift guide
White Christmas holiday table runner: here is the ideal gift for anyone who loves the art of table setting and interior decoration. A strip of printed fabric with a delicate holly and red bow motif to be used for a holiday mise en place or to add a touch of Christmas to a buffet cabinet, a coffee table, a sideboard.
Decorative horse: does the her you are thinking of prefer objects with a sophisticated and slightly nostalgic flavor? Does she have a childlike and dreamy nature? This idea may just win her over! A decoration that is reminiscent of toys of yore, with gold details and scarlet fabric inserts.
Bow-shaped cushion: when practicality meets style, creations that can both provide comfort and delight the eyes, are born. And these velvet, bow-shaped cushions are just that: a delight for sofas, beds, armchairs; a bijou for anyone who loves being surrounded by romantic and original items.
Quilt with applique: if winter is an invitation to stay at home and snuggle in a warm and cozy atmosphere, why not give a quilt that is a concentration of cuddles and warmth? Made of a soft microfiber, it will accompany the moments of relax of anyone who is dear to you.
Nutcracker wardrobe scenter: inspired by the tale by Hoffmann, here is a gift that fully celebrates the spirit of Christmas. A pair of nutcracker soldier-shaped chalk figurines scented with the Neroli perfume: an essence that is reminiscent of bergamot, for an intense and typically wintery fragrance. To be used on wardrobe shelves and drawers to scent linens or clothes.
Christmas ornaments: these are chiseled like jewels and have the flair of the most elegant of ornaments. The balls from the Domitilla Collection line are perfect to shine among the Christmas tree lights, but also as a timeless gift idea: something that will remain in the memories of the recipient, Christmas after Christmas.

Bottle opener key: are you looking for an idea that is practical, without compromising a touch of the decorative? If so, then this is the perfect idea for you and for that special someone. A functional object, but one to be left out to be admired: a useful but sophisticated gift.
Wall clock: telling time can also become an opportunity to decorate the walls of your man's home in an original manner. Particularly if the clock in question has a decorative frame with shabby chic finishings!
Bed linen set: realized in pure cotton and embellished by a taupe, satin trim that decorates the pillow covers and the top, this is a gift idea for men who have an eye for details. You can add a single-color quilt, to create a complete and impeccable bed set: a special gift that will leave the recipient speechless.
Santa Claus ornaments: does the him you are thinking of have a fireplace that needs decorating? Does he appreciate non conventional pieces and does he love Christmas? Then these ornaments will be more than welcome!
Terry towel duo with embroidered initials: this is a great classic, and we still love it. That is why we are presenting it, perhaps in a box, and with a few drops of fabric scent. Voilà: a personalized and perfumed gift. What do you think?
Flatware set for cheeses: are you looking for a gift idea for a man who loves to cook or enjoys eating? This pair of knives for soft or semi-seasoned cheeses is ideal! The one with two points is for portioning and picking up the cheese, the other is for cutting thin slices.
Magnifying glass and letter opener: if instead you wish to gift an independent professional, who spends his days in the office, this is a sophisticated and practical desk set. A real must-have for accountants, lawyers, notaries, engineers, architects and surveyors.
Gift ideas for the little ones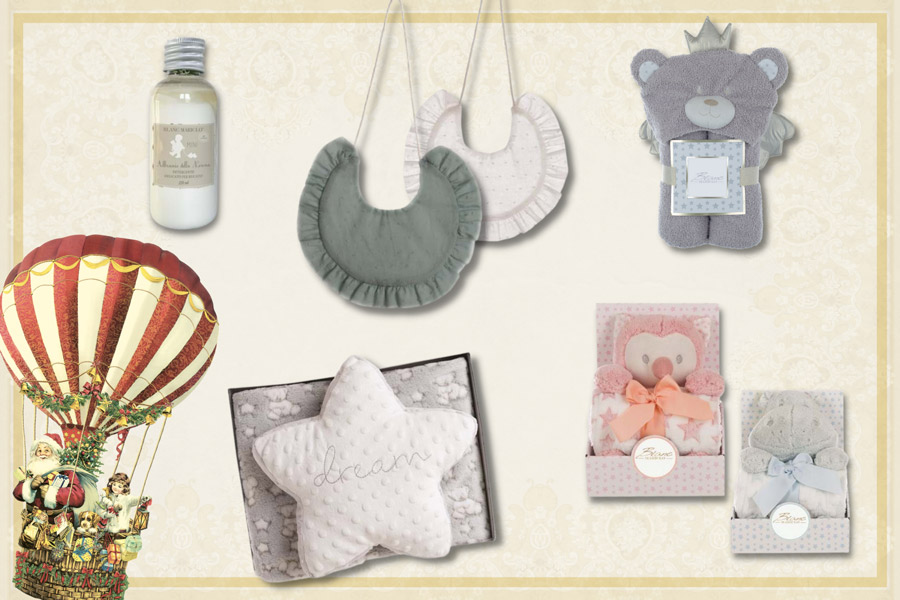 Delicate laundry detergent: along with toys, this year Santa Claus has tasked his trusted elves with finding a laundry detergent to lovingly care for the clothes of your little ones. The elves tried Abbraccio della nonna and fell in love with it … A minute Christmas tale to suggest a gift idea that is concentrated, scented and ecologically sustainable, the ideal to clean and sanitize children's clothing.
Bibs: these are a basic accessory, but no baby can be without them. That is why bibs remain the perfect gift idea. And if they are made of 100% cotton, and embellished by a soft ruffle, they will stylishly accessorize any onesie or baby outfit.
Teddy bear towel: bath-time is instantly sweeter and more fun if drying off is turned into a playful moment by a cute wraparound-towel with a teddy-bear hood. You just have to wrap it, add a lovely bow and give it to Santa Claus to deliver under your baby's tree.
Quilt with star-shaped pillow: if the kids' room is a place to be decorated with tenderness, with practical and warm items, here is a bedroom linen set that is a concentrate of tenderness and warmth for any bedroom.
Quilt with stuffed toy: our list of gift ideas for little ones ends with another quilt paired with a very soft stuffed toy. A cuddly idea to be used in the crib, baby carriage or stroller.
Gift ideas for furry friends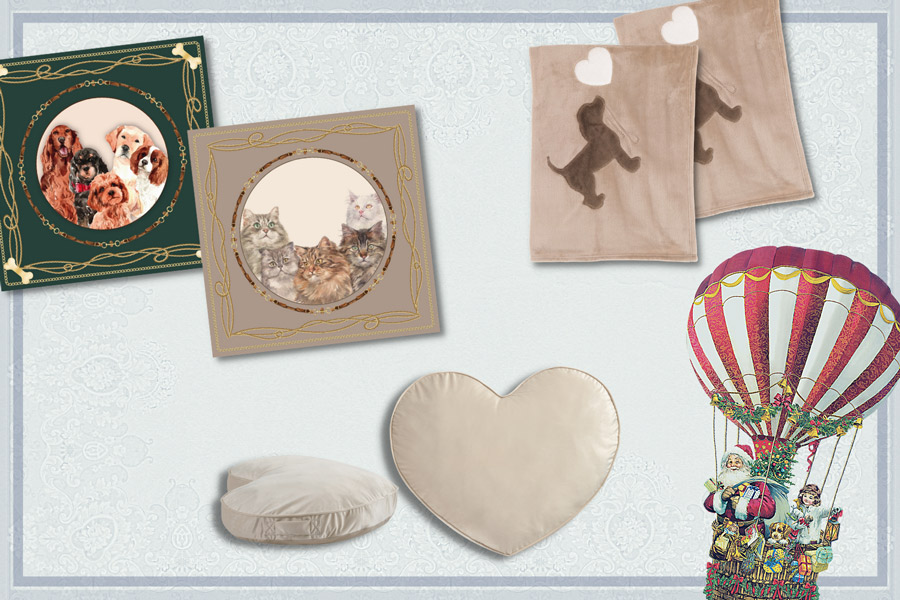 Vinyl placemats: chow time for Fido and Felix becomes chic and coordinated with the style of the home thanks to this square mat to be placed under the food bowls, which can be cleaned with the swipe of a sponge.
Quilt with appliqué: even dogs and cats get cold and need an extra dose of warmth during winter. So why not gift them with a soft quilt on which to snuggle down and nap peacefully, as well?
Oversized heart-shaped cushion: an alternative to a traditional pet pillow. An oversized, velvet cushion, fully washable, shaped so as to represent the love for our furry friends. Tested and recommended by all Borgo Blanc furry friends!
Have you already chosen the ideas most suited to making your dear ones happy, among those we have presented? We hope so. In any case, don't forget the art of perfect gift wrapping! A lovely wrapping can bring just as much happiness as the contents of the packaging.
Before saying goodbye and hoping to see you at our next blog post by Blanc MariClo', a small anticipation. If you love the art of table setting and have, over the years, chosen our Christmas plates to create your holiday
mise en place
, don't miss the next article: we will look back on the history of a classic piece from our collections, to get to the heart of the spirit of the most magical time of the year. We'll be waiting for you!