13/12/2021 - Blog
SPECIAL ON INTERIOR DECOR USING CUSHIONS
7 ideas for a "home cozy home"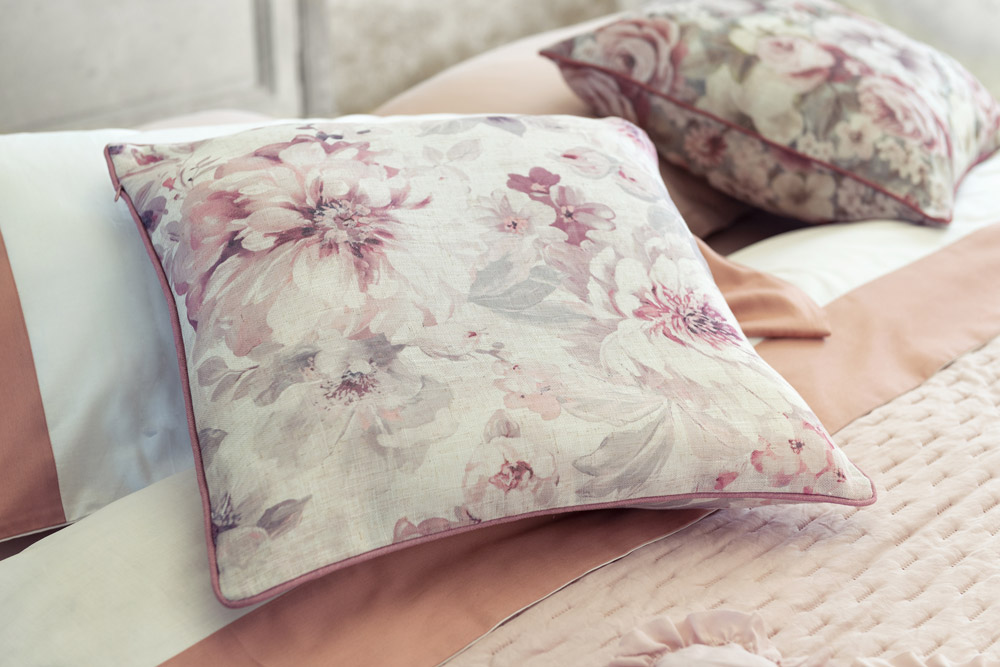 In home decor trends, there is a specific word that indicates a home atmosphere that instills a sense of welcome, warmth, and safety: that word is cozy. And what is more suited than cushions to make any interior cozy? Whether in the living room or in the bedroom, in the entrance or in a study, cushions decorate interiors, adding comfort and relax to any environment.
So, beds, sofas, armchairs and chaise longue invite one to rest, in the company of a good book or a TV series. And the volumes of furnishing accessories become softer and reassuring. Outside, there may be a cold wind blowing, or snow may be falling. But inside, the house is warm and cozy: the ideal place to feel cuddled.
Be inspired by the 7 lines of cushions that we have chosen for you; discover how the fabric, the colors, and the details can contribute to creating an atmosphere, and prepare yourself to live what remains of the winter in the comfort of a "home cozy home".
Special on interior decor cushions: 7 cozy ideas
1. Printed velvet cushions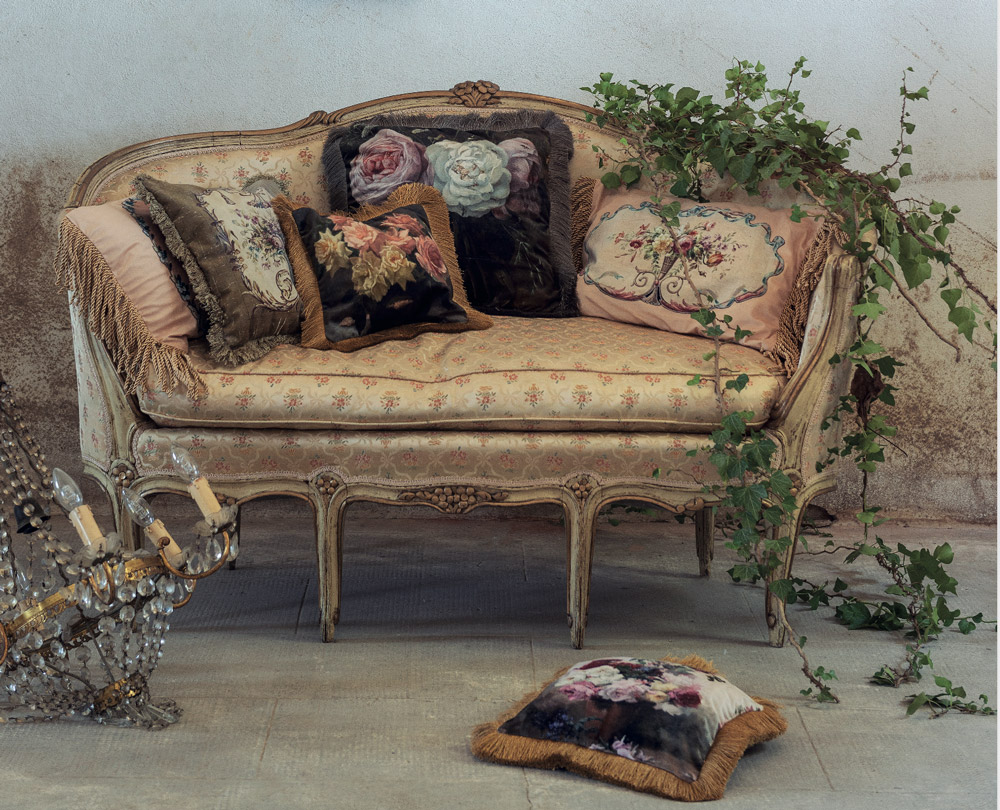 Among the fabrics that can transform a home into a comfortable and relaxing refuge, is velvet. Soft to the touch, luminous and iridescent, velvet covers cushions with its unmistakable elegance. In our collections, it represents one of the great protagonists of the winter season, and this year, we have decided to present it in multiple versions, one of which is completely new and original: printed velvet.
We have therefore created cushions that depict fresco-type scenes, either colored or in the infinite grades of sand-color. The subjects are varied, but they all have in common a reminiscence of the past: bouquets of tinged roses, still lives, ladies in period gowns, horses, musical instruments, old sheet music and panoramas that look like sketches of antique sinopia frescoes. An idea that can transform your home into an art gallery, rich in style and comfort.
2. Embroidered velvet cushions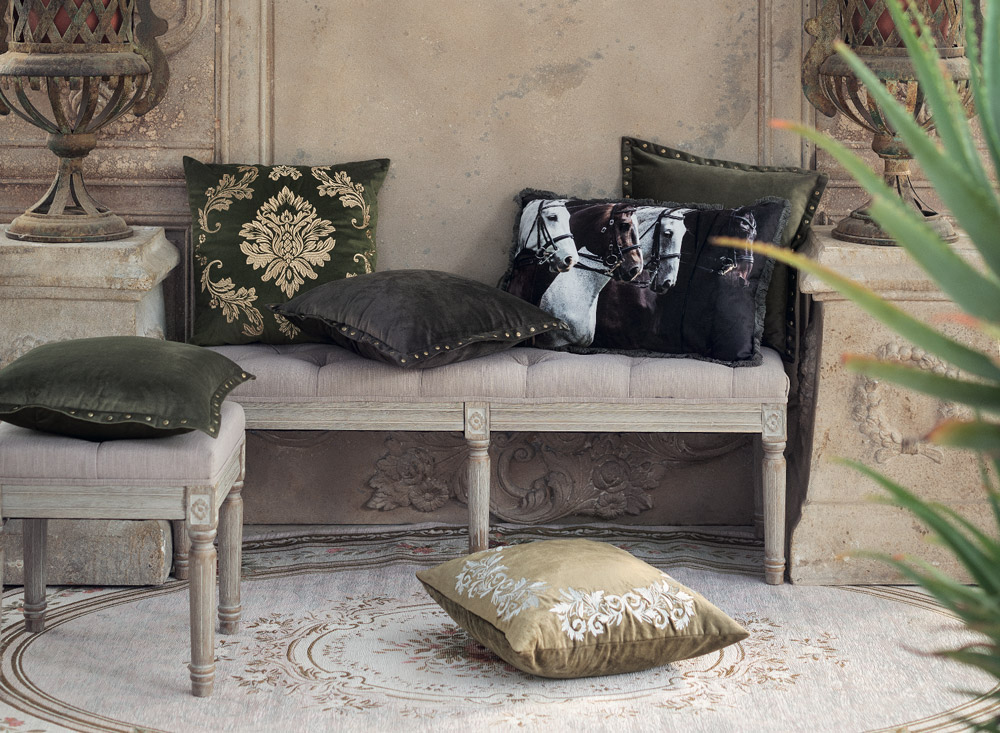 Continuing with the velvet theme, an alternative could be embroidered velvet cushions. A choice that exalts the unique characteristics of this fabric, with embroidery used to create borders and elaborate decorations. You may choose either square or rectangular cushions, alternating them with printed or single color cushions, arranged in the living room or the bedroom. Also, to create a perfect cozy ambience, why not match them with a carpet in the same color tones?
3. Gobelin cushions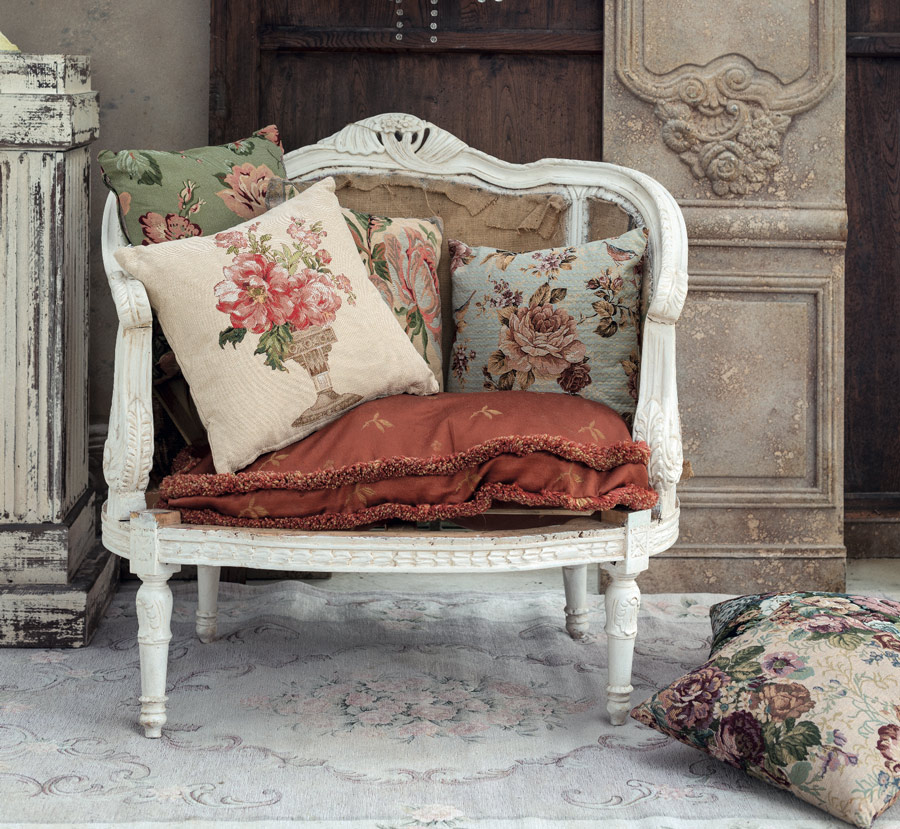 This fabric calls to mind the needlepoint stitching on antique tapestries, a full-bodied fabric, woven and suited to tapestry work. This is Gobelin, and we have chosen it for a series of cushions with floral designs and an embossed effect. Ideal for classical or shabby style environments, they will add a refined and vivacious touch to any sofa or armchair.
4. Cushions with flounces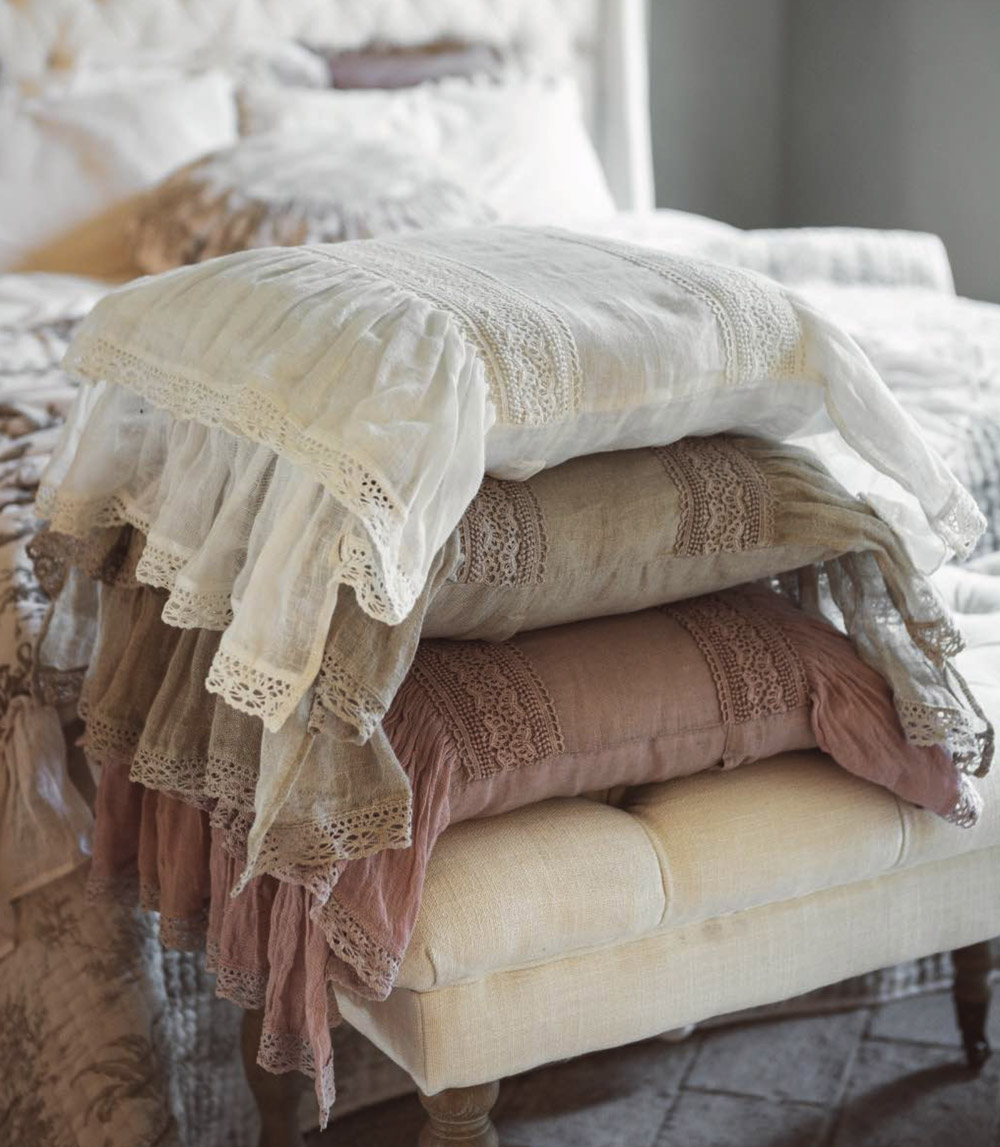 Among the characteristics of a cozy style, is a marked sense of romanticism given by details that inspire sweetness and joie de vivre… Such as flounces, finishings that are never lacking in our cushion collections! They can be more or less frilly ruffles, or small layered flounces, or light linen ruches refinished with lace. In any case, flounced cushions enrich any interior, refining it and personalizing it with those frilly details that we so love.
A few suggestions? After having made the bed, place two ruffled cushions over your bed pillows: the bedroom will immediately appear more welcoming and cared for. Try placing a flounced cushion on your favorite reading armchair: not only will it be more comfortable, it will also acquire a Provencal charm. Instead, on the sofa, simply alternate cushions with ruches to those you already have, to interrupt the monotony with a poetic touch of white, taupe or antique rose.
5. Round cushions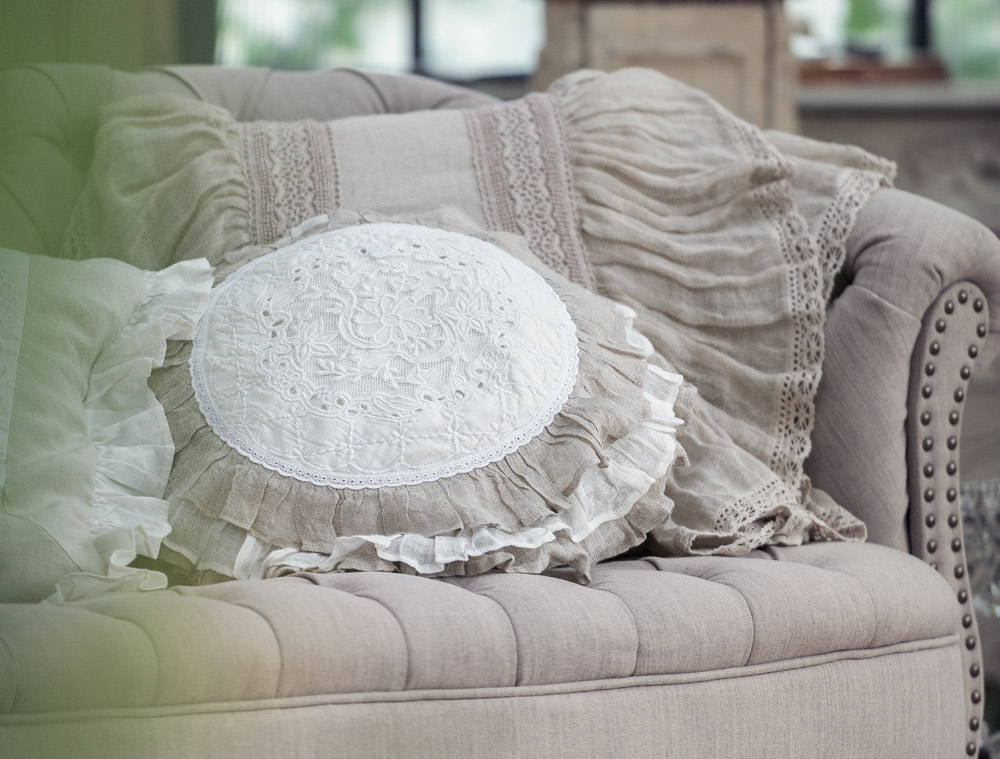 If the circle is the perfect geometrical shape, round cushions are perfect to create that sense of soft welcoming that is typical of a "home cozy home". Covered in velvet and fastened with a button at the center, they look like relax-sized mini poufs. Decorated with ruffles, these cushions become romantic and coy. Embellished by an embossed work and needlepoint inserts, they evoke the refined atmospheres of 19th century sitting rooms.
Whatever your preference, round cushions will help you complete the style of your interior decor with an extra touch of sweetness. And if you choose the version with flounces, we suggest pairing them with other ruffled cushions in different shapes: square, rectangular, or candy-shaped. The result will be harmonious and very sophisticated.
6. Bow-shaped cushions
When it comes to original shapes, these creations that provide comfort while delighting the beholder certainly stand out. Bow-shaped cushions are precisely that: a true delight for sofas, beds and armchairs; a gem for anyone who adores being surrounded by romantic and original pieces. Made of velvet or microfiber, they come in a variety of sizes and colors.
Brilliant and iridescent tones to brighten up any upholstery. Soft and dusty colors to delicately enrich boutis covers or winter quilts. Vibrant hues to add brio to any corner of your home. A symbol of home decor par excellence, bow-shaped cushions will decorate your home with a cozy style and will embrace you as your relax, like two soft wings.
7. Heart-shaped cushions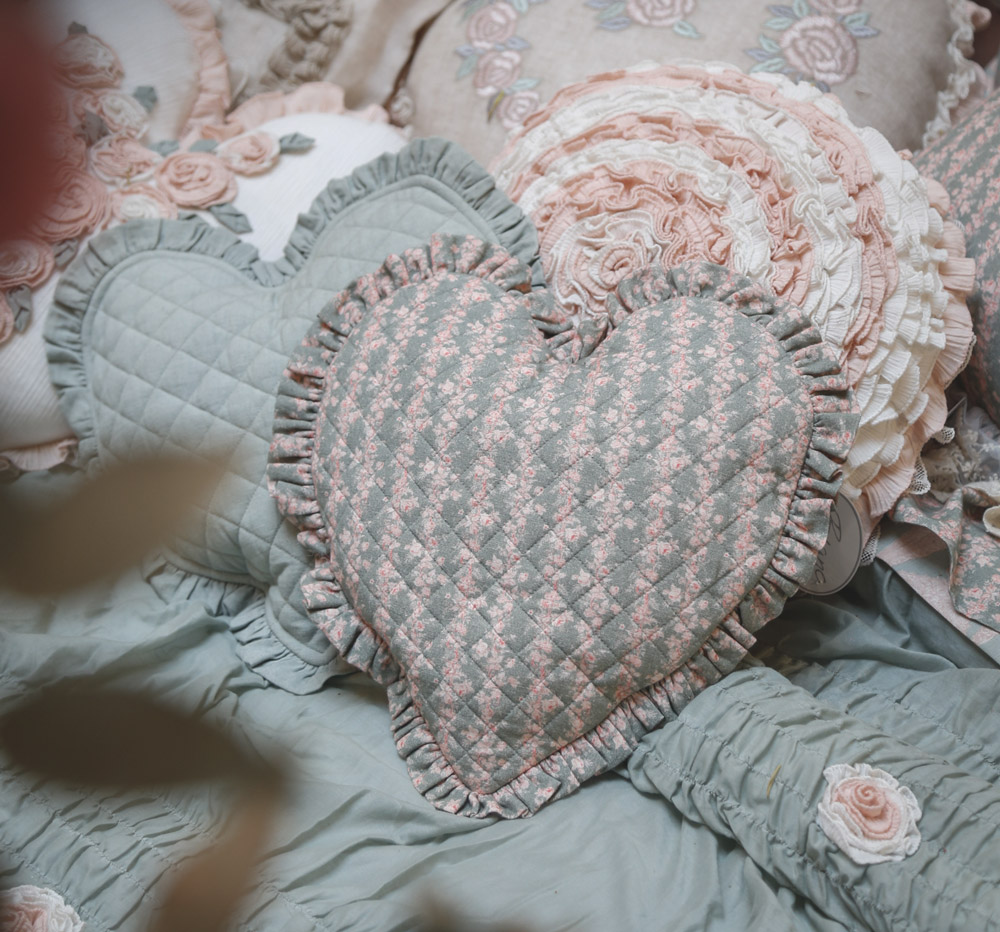 As the last suggestion in this article, we bring you heart-shaped cushions made of cotton, boutis, velvet and ecological fur. The ideal choice for those of you who love originality and conceive their homes as an abode for dear ones, including our four-legged friends. Indeed, along with decor cushions, we have an oversized, heart-shaped cushion: an alternative to a traditional pet pillow, either in pink or beige velvet, with a removable and washable cover, so that your fur babies can also have a cozy resting spot.
Have you already chosen which decor cushions you like best among the ones we have presented? We certainly hope so! In any event, remember that you may purchase them in the best Blanc MariClo' stores and online shops along with a wide selection of winter and autumn linens.
And if you are looking for ideas on how to arrange cushions in your living room and bedroom, we suggest you take a look at the "pearls of style" in our special article. Thanks for having been our guest, and see you at our next blog, by Blanc MariClo'.