04/10/2021 - Blog
Borgo Blanc cleansers
New fragrance essences for cleaning laundry, dishes and textiles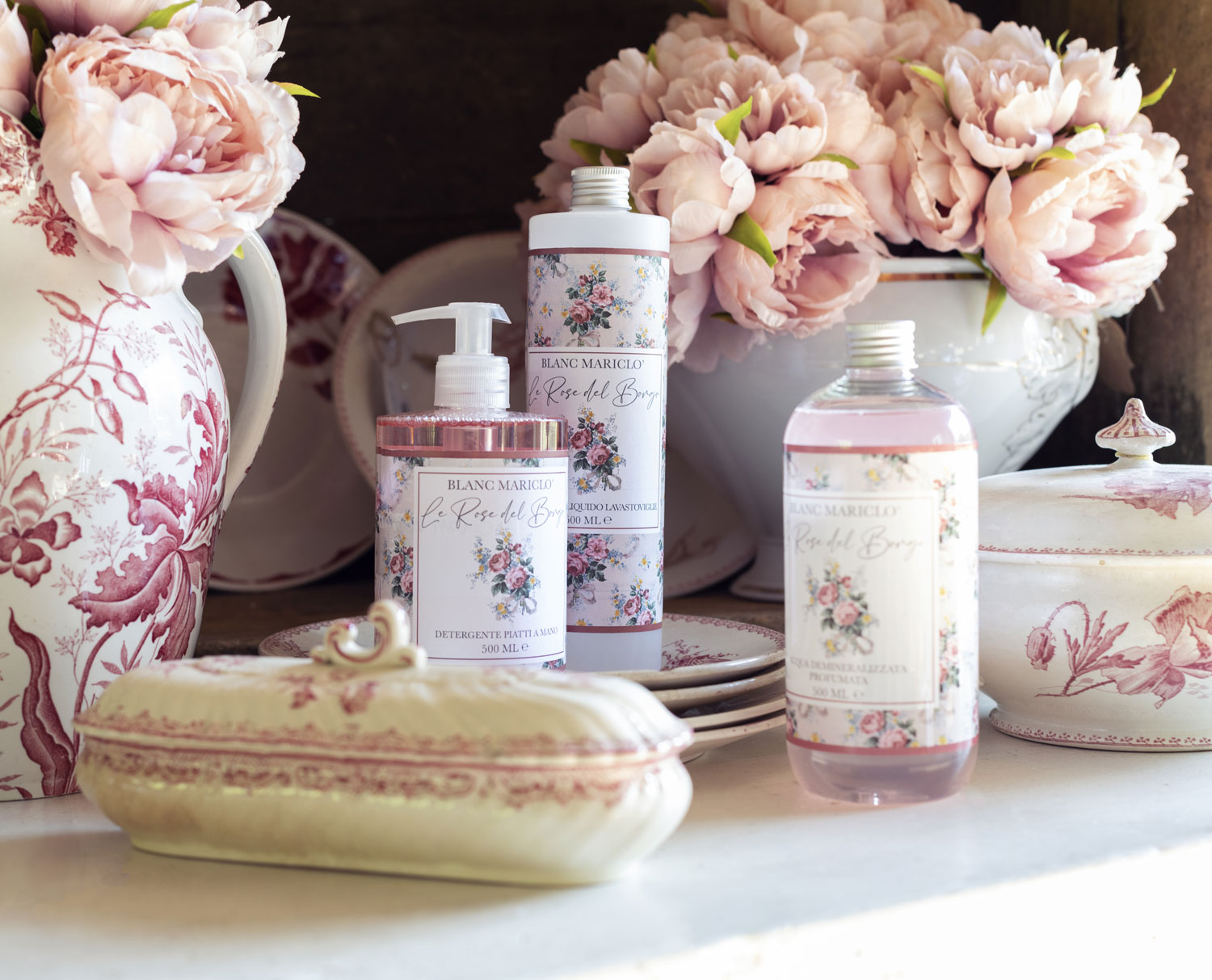 Time for novelties at Borgo Blanc MariClo'. Time for flowery and velvety essences. Of that good scent of laundry that immediately smells of cleanliness and freshness... We are happy to introduce you to I detergenti del Borgo: laundry and dishwashing detergents, fabric softeners, demineralised water and fabric sprays born from love for the home and family. Discover all the products and the different fragrances that you will soon be able to buy in the best Blanc MariClo' shops and online shops.
Doing laundry, ironing and washing dishes has never been so sweet and fragrant!
I detergenti del Borgo: the characteristics
All del Borgo detergents have a concentrated formulation that is at the same time biodegradable and eco-sustainable. They are the result of an all-Italian production obtained from high quality raw materials, attentive to the needs of the environment and people, designed to save money and reduce waste.
Detergents and softeners are free of solvents, thickeners, toxic and carcinogenic substances. The essences are gentle and respectful of sensitive skin. The bottles are long-lasting to guarantee hygiene and fragrance for your daily actions. A new way of caring for your favourite clothes before, during and after washing.
I detergenti del Borgo: the fragrances
The new Blanc MariClo' laundry, dishwashing and fabric care products are available in 7 delicate fragrances:
rose del Borgo: romantic fragrance with notes of rose and honey accompanied by a slightly spicy heart;
dolcezza: fresh, floral and woody essence derived from a blend of citrus notes with a heart of lily of the valley, orange blossom and rose;
laundry: fresh, floral and musky scent with olfactory notes of lily of the valley, rose, Ylang Ylang and neroli;
dream: floral and musky aroma of fruits and flowers with a woody heart;
cotton: essence of jasmine and rose with a heart of lilac, hawthorn, Ylang Ylang, violet and heliotrope;
lavanderina: herbaceous, floral and slightly citrus fragrance with a heart of lilac, violet and Ylang Ylang;
Grandma's hug: the essence dedicated to the laundry of the youngest, a floral and musky scent, sweet as a hug.
New del Borgo detergents for laundry and dishes

After the general characteristics and fragrances, it is time to discover in detail the new Blanc MariClo' products, starting with the line inspired by the Borgo Blanc rose garden.
Le Rose del Borgo detergent line
With a romantic essence par excellence, this complete home range includes: liquid soap and fabric softener for the washing machine, demineralised water, dishwasher and hand dishwashing detergent.
These products are ideal for flooding rooms with a sweet, flowery scent. Wash after wash, Le Rose del Borgo will make spring bloom all year round. In addition, thanks to the pink colour and the packaging decorated with floral motifs, they can become a useful and environmentally friendly gift idea.
Granny's Hug detergent line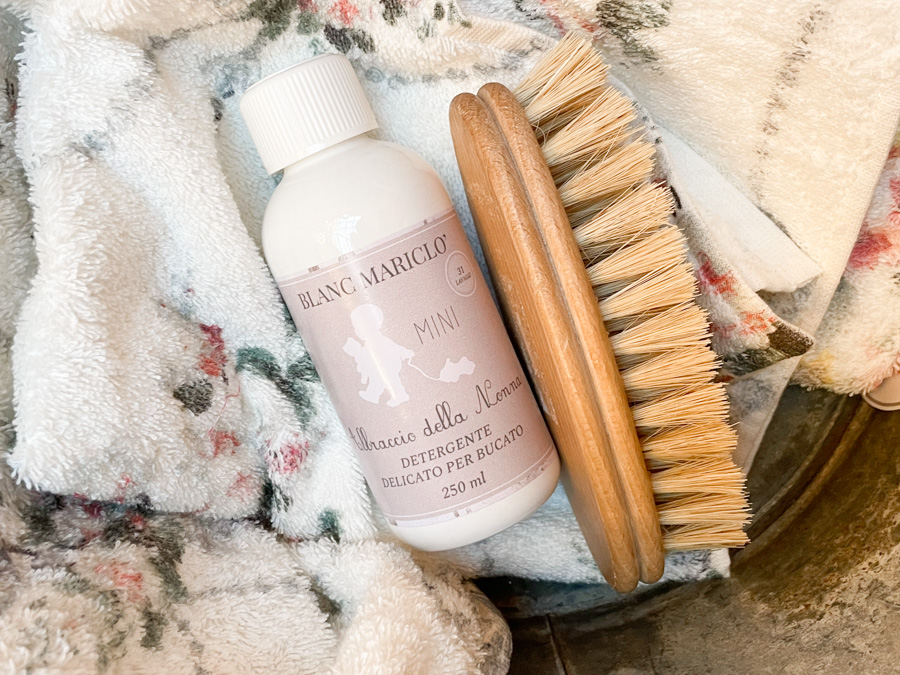 Wherever the utmost care is needed, the choice of products specifically designed for children is also essential. Abbraccio della nonna is just that: a line of detergents created for children's laundry, very delicate both in its composition and in its scented essence.
You can choose to use the soap for washing by hand or in the washing machine: thanks to the super-concentrated formula, just a small amount of product is enough to be sure of a hygienic, clean and scented result. A true pampering for babygrows, dresses, outfits, accessories, sheets and covers. A must-have to accompany the layette of newborn babies.
Format: 250 ml.
Liquid detergent for washing machines Drops of...
It is a super concentrated detergent to be used for hand and machine washing. Its made in Italy formulation is totally biodegradable and contains no solvents or thickeners. Derived from a blend of natural and synthetic oils, it is 100% water-soluble and suitable for washing clothes, underwear, household linen, sponges and carpets with any washing programme.
Effective even on persistent stains, it penetrates deep into the fibres, emulsifying and solubilising the dirt without altering the colours and elasticity of the fabrics. Thanks to its olfactory notes, it gives garments a softness and essence that lasts for weeks in 6 different fragrances:
Dream Drops,
Drops of sweetness,
Laundry drops,
Lavender Drops,
Cotton drops,
Roses of the Borgo
Format: 500 ml.
Ammorbidente Soffice
Soft, fragrant sponges? Easy-to-iron sheets that smell clean even after being stored in the wardrobe? With Soffice fabric softener it is possible: it relaxes the fibres, restores flexibility and softness to the fabrics, makes ironing smooth and fast thanks to the high percentage of active ingredient.
Like liquid washing machine detergent, our fabric softener is solvent-free and totally reabsorbable by the ecosystem. In addition, thanks to its deodorising properties, it eliminates unpleasant odours and gives laundry a pleasant scent in 6 different fragrances:
Soft dream,
Soffice dolcezza,
Soffice bucato,
Soffice lavanderina,
Soffice cotone,
Le rose del Borgo.
Format: 500 ml.

Demineralised and perfumed water
After washing and drying, the care of your clothes continues with the iron. Simply add one of our demineralised waters to your steam iron and you'll be able to scent your linen and clothing with floral, fresh, musky, spicy or woody essences.
You can choose to use pure water for a more intense and long-lasting effect, or diluted water for a lighter but long-lasting scent. Either way, you'll keep your clothes fresh without leaving stains or haloes in 3 different fragrances:
Lavender water,
Acqua di cotone,
Le rose del Borgo.
Dosage: dilute 500 ml of scented water in 4.5 l of odourless distilled water.

Textile spray Aria di...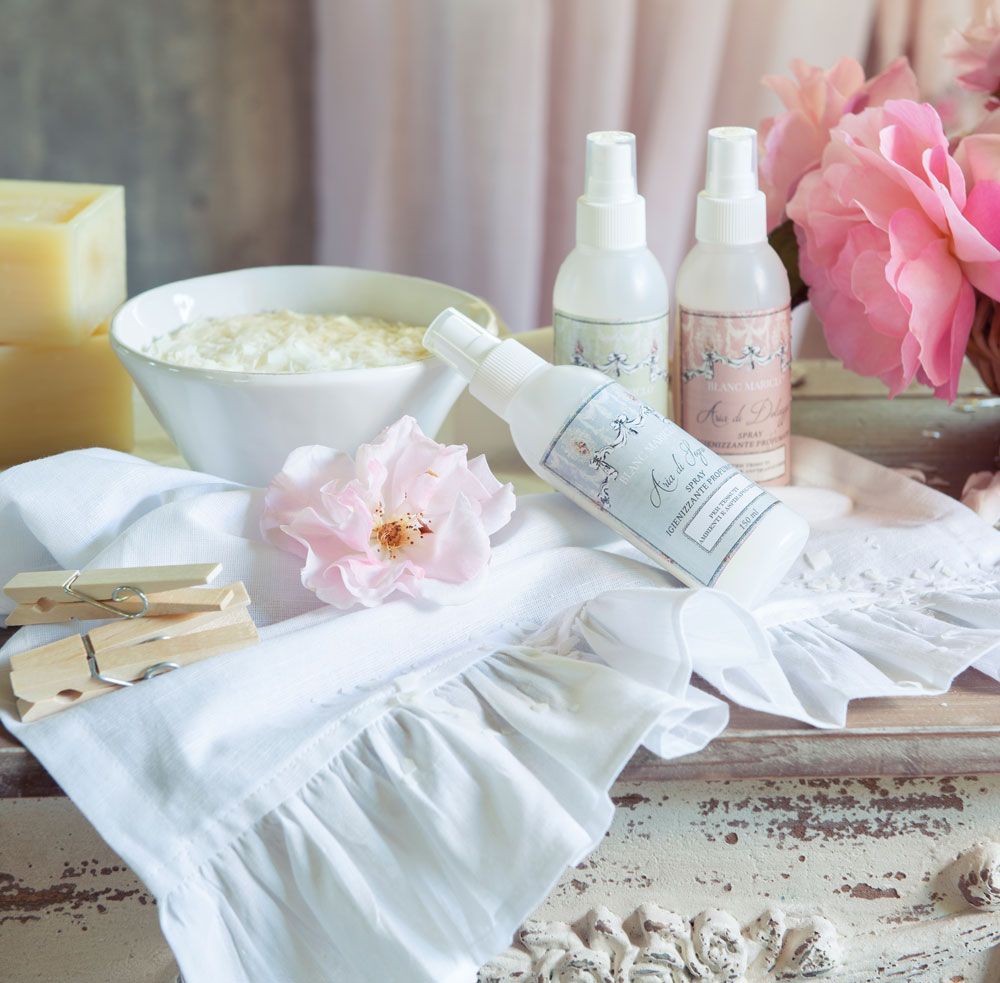 Taking care of your home also means eliminating unpleasant odours from your rooms and diffusing delicate, enveloping fragrances into the air. That's why we have decided to include scented fabric sprays among the Borgo's detergents!
Sprayed on curtains, carpets, cushions, sofas, armchairs and upholstered chairs, they will give freshness to fabrics without leaving a trace, but only a pleasant scent. Sprayed on the filters of your air conditioner or hoover, they will give off the scent you prefer, removing unpleasant odours such as smoke, mould or frying.
In addition, they will remain perfect allies at every wardrobe change in the 3 available fragrances:
Dreamy air,
Air of sweetness,
Air of laundry.
How to use: Spray about 20 cm from the fabric to be deodorised and repeat the application in case of persistent odours.
Format: 150 ml.
Hand dishwashing detergent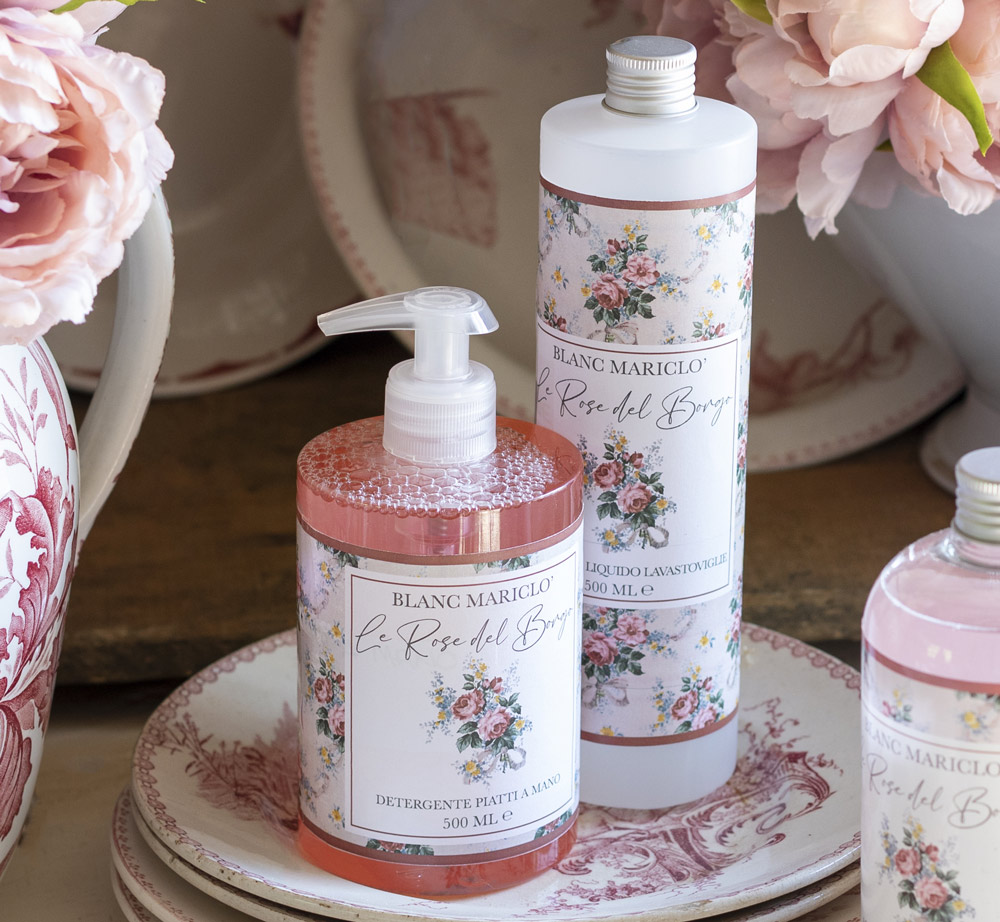 Along with laundry, I detergenti del Borgo also takes care of the dishes with sweetness and romance. The super-concentrated and biodegradable dish soap limits waste by restoring hygiene and brilliance to plates, glasses, cutlery, pots and pans. It also cleans to perfection all the accessories we love to use to create Blanc MariClo' style mise en place, such as splashbacks, trays and soup tureens.
All in respect of the environment and sensitive skins thanks to the eco-friendly composition with a high active content free of solvents, thickeners, toxic and carcinogenic substances. The hand dishwashing detergent is available in the fragrance Le Rose del Borgo: a true floral scent for your dishes.
Format: 500 ml with practical dispenser.
Liquid dishwasher soap
We conclude our roundup dedicated to I detergenti del Borgo with concentrated soap for the dishwasher. A product that avoids the formation of foam but eliminates food residues, degreases, polishes the dishes facilitating the rinsing and the perfect drying. It is also effective when washing dishes for short periods or at low temperatures, and leaves the dishwasher clean and fragrant.
The liquid soap for dishwashers is also a completely water-soluble and biodegradable product made in Italy. Its Le rose del Borgo essence will transform a habitual cleaning procedure into a pleasant parenthesis of sweetness.
Format: 500 ml.
Here is our latest creation, created following the idea of a Blanc MariClo' world in which there are no product boundaries but only a single poetic and evocative thread. To bring this thread into your home through the care of laundry, dishes and fabrics, we remind you that you can buy I detergenti del Borgo in the best shops and online shops of our brand.
If, on the other hand, you are a retailer and would like to expand your offer with Blanc MariClo' eco-friendly detergents, demineralised water and fabric sprays, you can access our shop and choose the I detergenti del Borgo you like best.
Thank you for joining us and see you at our next blog post dedicated to home care in all its nuances and fragrances.